You are warmly welcome to Stockholm Kulturnatt and Nordic Spring International Peace and Culture Festival as well as Beijing artist Li Li's art exhibition!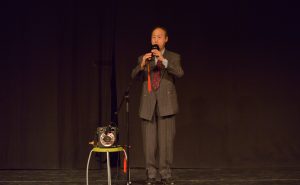 Time: April 21, 18:00-24:00.
Address: Ynglingagatan 17, Stockholm.
Program:18:00-19:00  Grand opening concert with singing and dancing as well as instrument performance. such as Gittar, violin, Hulusi and erhu.
19:00–20:00   Chinese dinner with five dishes with Hangzhou flavor (100 kronor for cost)  Jazz and blues hour
20:00-21:00   concert again with singing, dancing, Taiji and instrument performance.
21:00- 22:00  Introduction of Beijing artist Li Li and her works. She couldn't come this time because she has to visit another country. But she will come to Sweden later.
22:00- 24 :00 play a Chinese film   titled  Romance on Lushan Mountain, a romantic film from the 1980s in China.  Looking back how Chinese were like in the 1980s.
A man Geng Hua from Peking went to Lushan Mountain to have a meeting. He studied English and just met a young beautiful woman who just came back from America.  They fell in love with each other,  but……….
Hope you enjoy it!
The concert is open for all. Welcome!