By Xuefei Chen Axelsson
STOCKHOLM, December 8( Greenpost )–Toppdiplomater som representerar den Afrikanska Unions medlemsländer i Sverige deltog tillsammans med Kinas ambassadör i ett välbesökt seminarium organiserad av Belt and Road Institutet i Sverige (BRIX) den 5 december i Stockholm med temat Det nya Afrika Växer" (The New Africa Emerging).
Seminariets deltagare presenterade och diskuterade den enorma förändringen och utvecklingen som pågår i flera delar av Afrika för att förvekliga Afrikas visioner och utvecklingsmål i sammanhanget av Belt and Road Initiativet / Nya Sidenvägen Initiativet (BRI).
Ännu viktigare var diskussionen om den obegränsade utvecklingspotentialen som kan växa ur ett aktivt samarbete mellan Sverige, Kina och Afrika för att accelerera och få nytta av detta lovande perspektiv.
Seminariet inleddes av Stephen Brawer, viceordförande för BRIX och moderator för seminariet. Han välkomnade alla och gav en kort historien om hur BRIX blev till, och om dess två andra väldigt lyckade seminarier i 2019. Han betonade att BRIX jobbar för att sprida kunskap av BRI som en global utvecklingsprocess, och presentera fakta och kunskap baserade på djupare reflektioner och inte på ytlig opinion byggd på fördomar och politiska syften. På så sätt anser BRIX att i fortsättning ska desinformation och propaganda som sprids i Sverige mot BRI bemötas tydligare och med mer kraft.
Egyptens Ambassadör Alaa Hegazi höll välkomsttalet som företrädare för Afrikanska Unionens (AU) ordförandeland. Han betonade hur viktigt Belt & Road Initiativet är för genomförande av Afrikas utvecklingsplaner som funnits länge och endast saknat byggstarterna. Han presenterade AU:s plan Agenda 2063 för ett kontinentalt järnvägs- och vägnät, elektrifiering och industrialisering. Ambassadör Hegazy förklarade att AU har flera samarbetsmekanismer med EU, FN, Japan osv, men samarbetet med BRI är den mest dynamiska och resultatgivande i Afrika idag.
Kinas ambassadör Gui Congyou höll huvudtalet på seminariet och berättade om det omfattande samarbetet som utvecklats mellan Kina och Afrika inom ramen för BRI. Han hänvisade till toppmötet i september 2018 för Kina-Afrika Samarbetsforum (FOCAC) i Peking och resultatet av toppmötet. "Kina-Afrikas gemensamma byggande av BRI har påskyndats, och 40 afrikanska länder och AU-kommissionen har undertecknat samarbetsdokument med Kina om initiativet. Vi har formulerat planer för enskilda afrikanska länder baserad på Afrikas faktiska behov. Vi kommer att genomföra totalt mer än 880 Kina-Afrika samarbetsprojekt under de kommande tre åren." Vad gäller det kinesisk-svenska perspektivet sade ambassadören Gui: "Den svenska regeringen har många bistånd- och samarbetsprojekt för Afrika, och många stora svenska företag som Volvo, Scania och ABB har omfattande verksamhet i Afrika. Kina är villigt att arbeta med andra länder i världen, inklusive Sverige, för att komplettera varandras styrkor och ge positiva bidrag till fred, stabilitet och utveckling i Afrika. "
Etiopien Ambassadör Deriba Kuma visade hur Afrikas planer för modernisering och industrialisering håller på att förverkligas. Etiopien är på god väg att förverkliga sina planer att till 2025 bli ett medelinkomstland som övergår från ett jordbruksbaserat samhälle till ett industribaserat, berättade ambassadör Kuma. Det var en föraning av vad som vi kommer att höra mer om när Etiopiens premiärminister nästa vecka skall ta emot Nobels Fredspris för sitt fredsarbete med alla länder på Afrikas Horn.
Sydafrikas beskickningschef Duncan Sebefelo talade om de betydande summor som Kina investerat i projekt i hans land. Efter årsskiftet blir Sydafrika ordförandeland för AU och han redogjorde för de filosofiska principer som AU har för de ekonomiska samarbetsprojekten.
Styrelsemedlemmen i BRIX Hussein Askary visade med bilder och kartor hur BRI bidragit till att börja förverkliga Afrikas projektplaner och berättade om den optimism som de skapat. Han betonade att BRIX finns inte för att heja på Kina eller Afrika. De kan sköta sitt. BRIX målsättning är Sverige ska vara med detta samarbete och inte missa tåget mot ekonomiskt välstånd och stabilitet i världen.
Askary berättade om den otroliga skillnaden mellan den europeiska och svenska attityden mot Afrika som är en återstod av den gamla koloniala mentaliteten och hur Kina betraktade Afrika som en mycket viktig partner. Problemet stort sett ligger i den misslyckade bistånds mentaliteten som dominerar EU:s agerande. Askary argumenterade att det kinesiska sättet att tillförse Afrika med "verktygen" för utvecklingen som infrastruktur, industrialisering och teknologiöverföring är den mest lämpliga för Sverige och Europa att följa. Under rubriken "SDG2030 akrobatik" (FN målen för hållbar utveckling) berättade han om hur Sverige och EU gör om FN:s utvecklingsagenda 2030, så att de viktigaste målen att ta itu med (fattigdom, hälsa, utbildning, vatten, energi, industrialisering osv.) placeras längst ned, medan klimatfrågan, som är nr 13, sätts högst upp. Avslutningsvis, förklarade han att med hjälp av Kina och BRI Afrika är på god väg att förverkliga sitt Agenda 2063, men frågade om hur snabbare denna agenda kan förverkligas om Sverige och EU bidrar till den?
Den norske tidigare stortingsledamoten Thore Vestby, och styrelsemedlem i Ichi Foundation, talade om det norska samarbetet med Afrika, som i hög grad varit inskränkt till bistånd genom NORAD. Men en ny inriktning på samarbetet har upprättats 2012 genom NABA-Norwegian African Business Association av ledande norska företag (norwegianafrican.no). Även Norge behöver upprätta samarbete med BRI, sa Vestby, kommer att startas. Han kongratulerade den Svenska BRIX för sitt framgångsrika arbete och tillkännagav att ett "BRIX Norge" ska startas i det nya året.
BRIX-medlemmen och konsulten Lars Aspling berättade i sin presentation att det är nu 16 av 28 EU-länder som har ingått avtal (MOU) med Kina för att samarbeta med BRI. Det visar att ett sådant avtal, eller ett positivt yttrande om BRI, som Frankrike och Finland uttalat, inte nödvändigt behöver splittra EU. Även om svenska regeringen med sitt förslag till ny Kinastrategi håller sig till EU:s politik, så är det således inga legala frågor som hindrar Sverige utan enbart en brist på politisk vilja, fastslog han.
Aspling annonserade att den nya rapporten som BRIX just publicerat om vad BRI handlar om och vikten att Sverige samarbetar med BRI finns nu att ladda ner från BRIX hemsida.
Seminariets moderator Stephen Brawer ledde den avslutande paneldebatten där talarna fick svara på publikens många frågor och kommentarer.
BRIX ordförande Ulf Sandmark kommenterade diskussionen om korruption i Afrika med att påpeka att BRI har en inriktning på reala investeringar som inte överlämnas som penningsummor likt Västvärldens investeringar. BRI-investeringarna levereras som cement, stål, maskiner och insatsprodukter till projekten. "Cement är svårt att sätta in på ett bankkonto, vilket gör att BRI har en inneboende mekanism för att hindra korruption", sa han och uttryckte samtidigt sin glädje över att så många gamla och nya vänner deltagit i seminariet.
Moderator Stephen Brawer betonade igen behovet av att presentera faktabaserad information och kunskap om BRI, och gjorde en poäng av att tacka insatsen som TV100 och Fredrik Vargas gör genom deras viktiga arbete att förmedla i sitt reportage vad har presenterats i seminariet.
19 diplomater från 15 länder (flest från Afrika) deltog i en publik på sammanlagt 60 personer. Svenska media representerades av den fristående TV-kanalen TV100 som dokumenterade hela seminariet, inklusive paneldebatten där den kinesiska ambassadören gjorde sin kommentar till de svensk-kinesiska relationerna.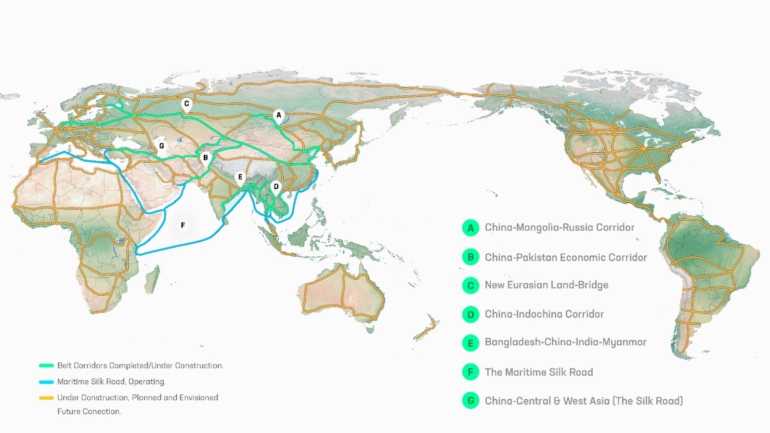 Foto Xuechao, Text Brix