By Xuefei Chen Axelsson
Stockholm, Aug. 4(Greenpost)-Chinese people all over the world are happy for Beijing and Zhangjiakou to win the right to host 2022 Winter Olympics.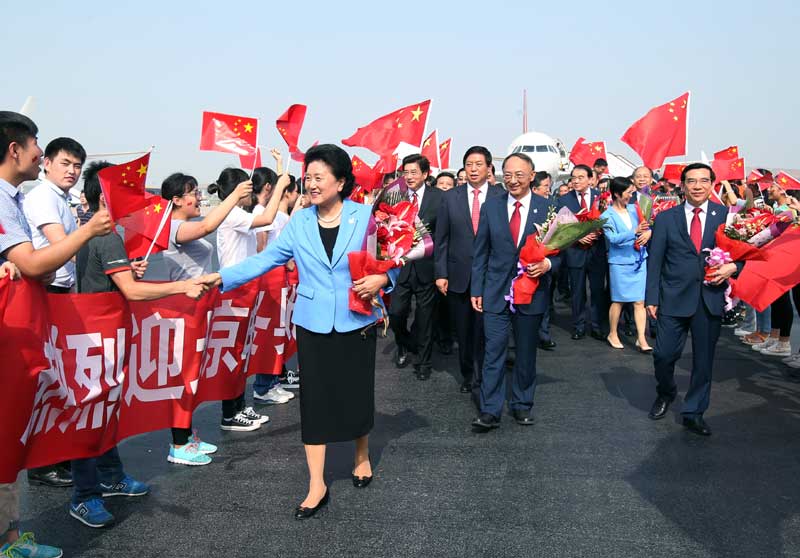 Vice Premier Liu Yandong, head of the Beijing 2022 Winter Olympics bidding delegation returned to Beijing on August 2 and welcomed by various circles of the people in Beijing. Photo by Xinhua, Yao Dawei.
The news came out on July 31st. Immediately after that I saw my Wechat friends circle spread out this news.
I sat in front of my computer and watched Swedish SVT finding out that they got an one hour and 22 minutes live broadcasting program to specially live cover the voting site in Kuala Lumpur Malaysia.
I felt very excited when I heard the news and tears almost came out of my eyes. It was as if I won the world championship or in other words that I could feel the happiness of a winner in sport.
Liu Yandong with delegates in Lausanne for Beijing's bidding briefing for 2022 Winter Olympics Games.
It was such a short notice type of happiness. I heard the news last month that my former colleague Yang Binyuan who was a project leader during 2008 Oympic Games in Beijing were in Lausanne to participate in the bidding process with Chinese Vice Premier Liu Yandong, famous TV host Yang Lan, Sport star Yao Ming,  Beijing Mayor Wang Qishan and many others.
The tallest in the middle is Yao Ming and the third from left Yang Binyuan. Photo from Yang Binyuan's facebook.
According to SVT, Sweden also bid for 2022 Winter Olympics, but when it heard China also bid for it, it withdrew hoping for 2026. In fact, many countries withdrew at the news that China wanted to bid.
This time China seemed to prepare for the bidding not that long time ago, however many work has been done long time before thinking of bidding for Olympics. For example the skiing site was built many years ago just for people's sports recreation so that people around Beijing can enjoy the pleasure similar to that in Northeast China's Heilongjiang and Jilin provinces.
But I think this bid has great to do with the support of President Xi Jinping's idea of cleaning the environment in Beijing, developing the surrounding areas. So he said if Beijing and Zhangjiakou can hold 2022 Olympic Games, it will drive a consumption population of 300 million. That is a great business opportunity.
http://www.tudou.com/programs/view/6v6h1NnzgBY/
His words moved many people.
"Beijing is like a vampire absorbing all the talented people and various resources while the surrounding province was deprived of these resources. It is time to help the surrounding city to develop. I believe the 2022 Winter Olympics will help Zhangjiakou to develop for the better, congratulations," said Huang Nan, an independent English  language professor in his Wechat circle.
Professor Wu Wenzhong from Beihang University also congratulated Beijing.
"Talking about Olympics, I was the English judge for 2008 Beijing Summer Olympics judges. I will be 68 years old by 2022, I like to be a volunteer for the 2022 Winter Olympics if possible," said Professor Wu in his Wechat friends circle.
Swedish Olympic Committee President Stefen Lindberg said in a telephone interview that Beijing's winning is not unexpected.
"It's not unexpected. Beijing has the basis from 2008 Olympic Games and Zhangjiakou can be a good place for skiiing. Sweden will be preparing for 2026," said Lindberg.
In Beijing, Lin Mei sent me a photo saying that she and Swedish Ice Hocky Coach were invited to celebrate the victory of bidding.
Geely Group P.R. chief Michael Ning said Volvo made a good decision to choose Zhangjiakou as one of its production bases. The 2022 Winter Olympics will definitely be beneficial for them.
Of course the greatest benefit for Beijing will be the blue sky. It is a dream for many to have the blue sky and white cloud.  Beijing has created Olympics blue and Apec blue. Unfortunately it is very difficult to keep it for the long term.
According to British Stern report, China's greenhouse gas emission is expected to decrease by 2025. With the efforts to hold 2022 Winter Olympics, the blue sky is expected to be able to continue by then.
http://www.greenpost.se/2015/06/09/%E4%B8%AD%E5%9B%BD%E6%B8%A9%E5%AE%A4%E6%B0%94%E4%BD%93%E6%8E%92%E6%94%BE%E6%80%BB%E9%87%8F%E5%8F%AF%E6%9C%9B%E6%8F%90%E5%89%8D%E4%BA%94%E5%B9%B4%E5%87%BA%E7%8E%B0%E6%8B%90%E7%82%B9/